The volume of routine contracts flowing around an organisation at any one time is vast. Contracts ranging from Sales and Purchase Agreements to NDAs and Employment contracts are the lifeblood of a business and define the pivotal relationships between an organisation, its employees, suppliers and customers. However, with legal teams often solely responsible for creating, negotiating and handling these important documents, bottlenecks can quickly build up and have a far-ranging impact on the business.
Luminance's Automated Contract Generation technology eases the strain placed on in-house legal teams by empowering other business functions to draft their own contracts, safe in the knowledge that they are using legal-approved templates and complying with internal standards.
Empowering Non-Legal Teams
Whether it's a sales representative requiring a standard NDA or procurement teams needing a complex Supplier Agreement, contract requests from a variety of business functions takes invaluable time and resource away from Legal which could otherwise be spent on high-value work such as improving negotiation positions and accelerating deal closure. Luminance's highly customisable AI-powered contract generation functionality allows lawyers to create any kind of contract template, ranging from standard NDAs and Sales Agreements to more complex, bespoke agreements. The Legal team is in full control of the contract templates; from in-built conditionality (e.g. for contracts generated by our German division, change governing law and ensure liability caps meet required thresholds), to ensuring terms meet with internal compliance, Legal has complete visibility into the content of the contract itself. Indeed, with Luminance's automated Contract Generation functionality, Legal teams can ensure they are not bogged down in generating the same contract time and time again.
Let's imagine, for instance, that a member of the Sales team is generating a Sales and Purchase Agreement. Within the Luminance platform, they would start by simply selecting the relevant contract type from a drop-down menu. Luminance will instantly provide all the key information about the selected contract and associated organisational standards which have set out and approved by Legal. When inputting clause wording and metadata, users simply populate pre-defined fields with the relevant information from a drop-down menu and be guided along the way with 'helper text'. Legal teams can be assured that nothing beyond the pre-defined fields can be entered into the contract.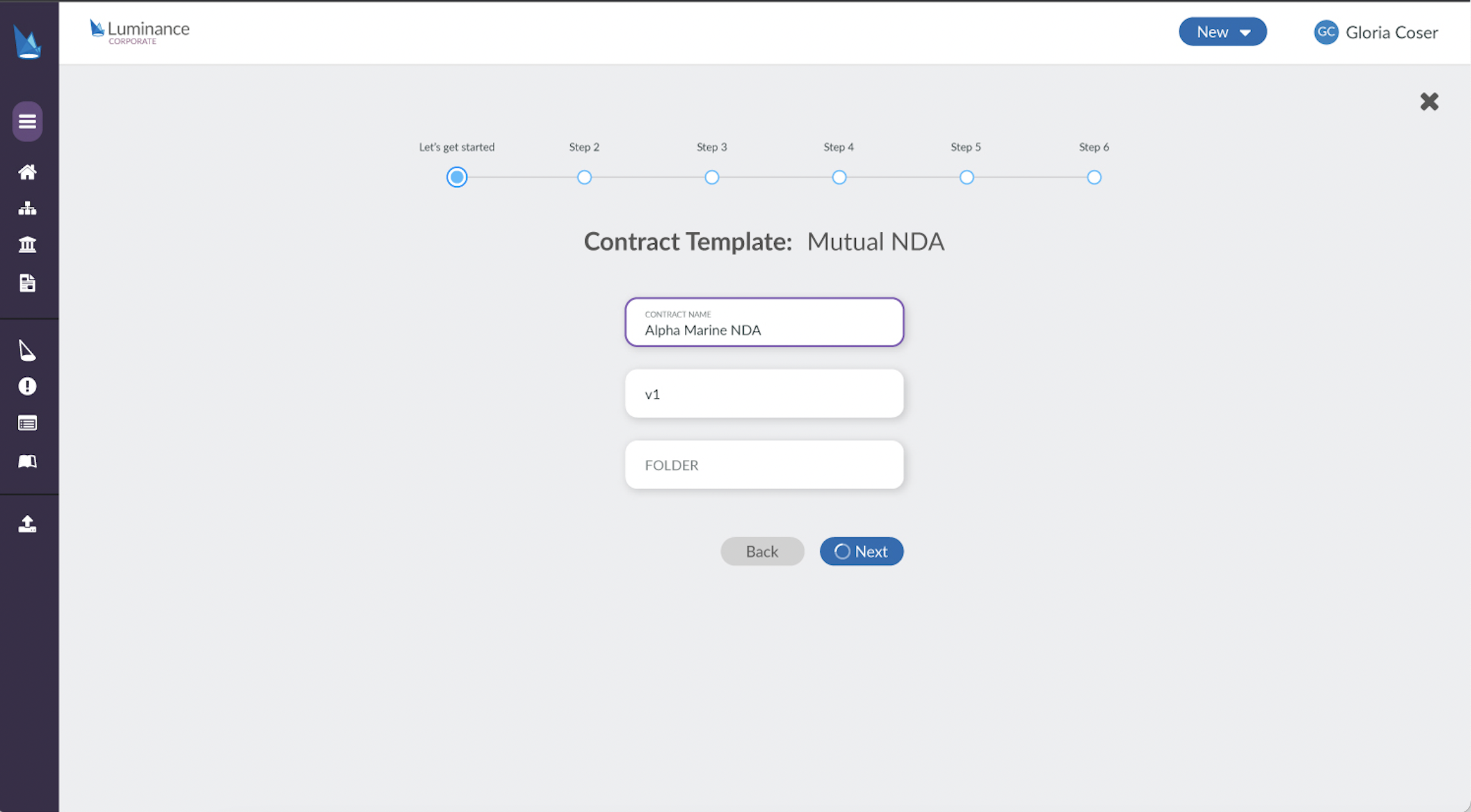 )
Once all fields are complete, the template can be generated in any language and is easily accessible from the Luminance Home Screen, where users have a complete overview of the status of their live contracts. From here, the salesperson can send the contracts directly to the counterparty via Luminance's intelligent Outlook integration, ensuring a smooth and efficient commercial process.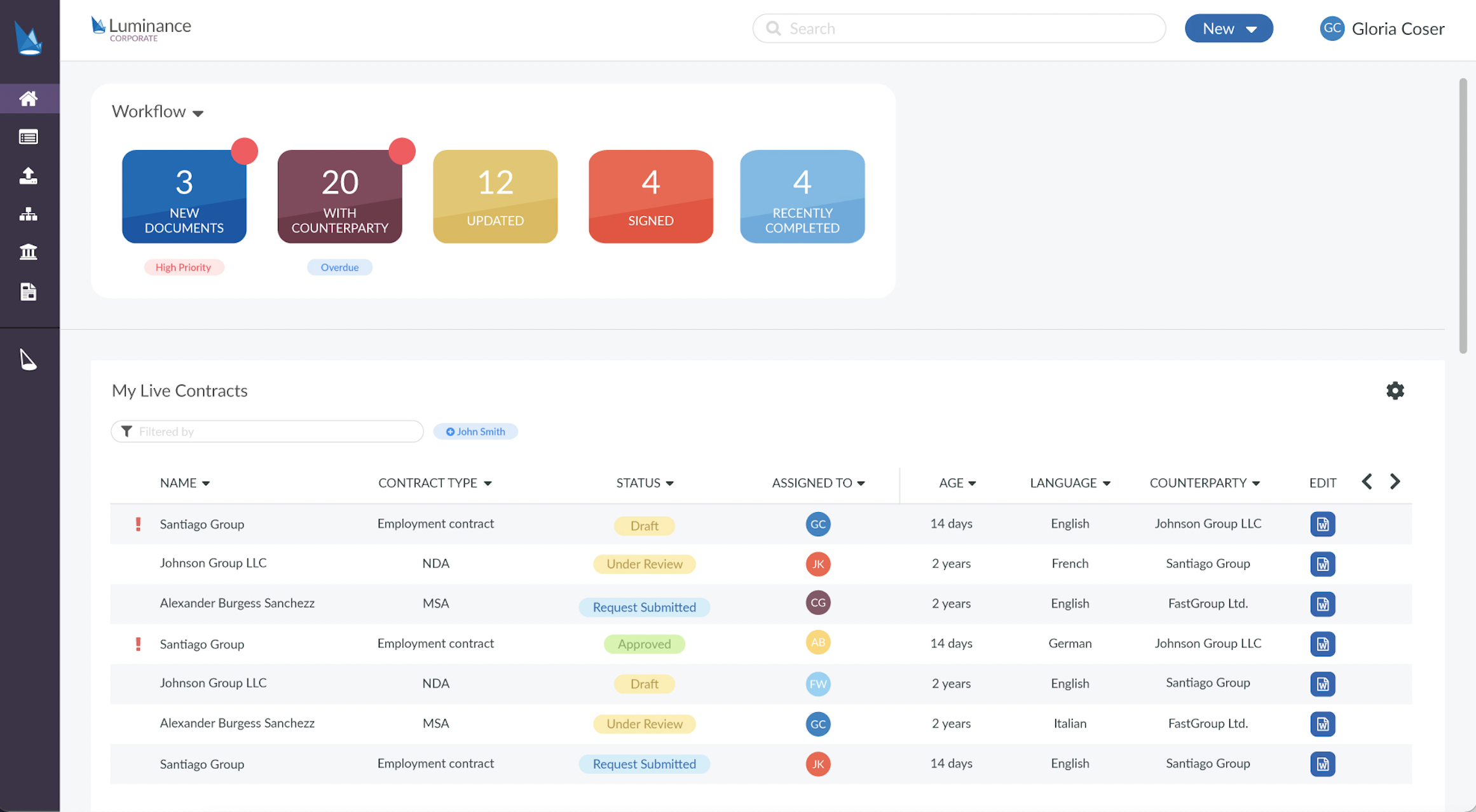 Seeing the ROI from Contract Generation
AI can facilitate the commercial process and ease the burden felt by Legal and non-Legal teams alike, generating value for any organisation. So, what key benefits can businesses expect from contract automation?
Minimise version control risk: With pre-approved contract terms uploaded into Luminance, legal teams can minimise risk by ensuring that no out-of-date templates are being circulated and used by other teams.
Empower non-legal functions: Contract automation allows non-legal functions of the business to generate contracts without referring to Legal at every stage of the commercial process, enabling them to pro-actively drive business growth. As Jackie O'Neill, Director of Project Management, Global Risk at customer firm, Liberty Mutual, commented: "Luminance empowers people and builds their confidence that they are doing the work and they are doing it right the first time."
Accelerate time to deal closure: Time-consuming and costly roadblocks in the contracting process are broken down with AI rapidly generating routine contracts with internally-approved wording. In this way, contracting becomes a business enabler rather than an obstacle, ensuring no key commercial opportunities are missed due to lengthy delays.
Interested in finding out more about how Luminance's Contract Generation tool is helping both legal and non-legal teams maintain compliance and streamline the commercial process? Request a demo here