The manufacturing sector is in an era of transition, having emerged from the pandemic only to grapple with fresh challenges in the form of global supply chain disruption, changing consumer preferences and the drive towards Net Zero. Now more than ever, the legal departments at the heart of these manufacturers are under increasing pressure to ensure their organisations meet compliance responsibilities by providing comprehensive assessments of their supplier obligations, liabilities, and indemnities. And all this work comes at a time when in-house legal teams are expected to actively source new business opportunities in a sector laser-focused on revenue growth.
Against this backdrop, global manufacturers like Koch Industries, JTI and IDEXX Laboratories are turning to Luminance's next-generation AI to conduct rapid and thorough document reviews, helping them to understand contractual obligations, proactively spot potential risks in their supply chains, and automate routine legal processes in order to maximise revenue and mitigate risk.
Maintaining Compliance: Now and in the Future
Legal teams face an uphill battle when it comes to staying up to date with evolving ESG mandates, privacy regulations and sanctioned entities. With Luminance's AI providing a holistic overview of an organisation's business activities, identifying all geographies and jurisdictions present within contracts, legal teams can rapidly identify where repapering or other contracts remediation processes may be required in response to regulatory change.
For instance, following the Russian invasion of Ukraine last year, US-based manufacturing giant, IDEXX Laboratories, analysed over 20,000 in contracts in just 20 minutes to gain an instant understanding of their potential exposure to sanctioned entities.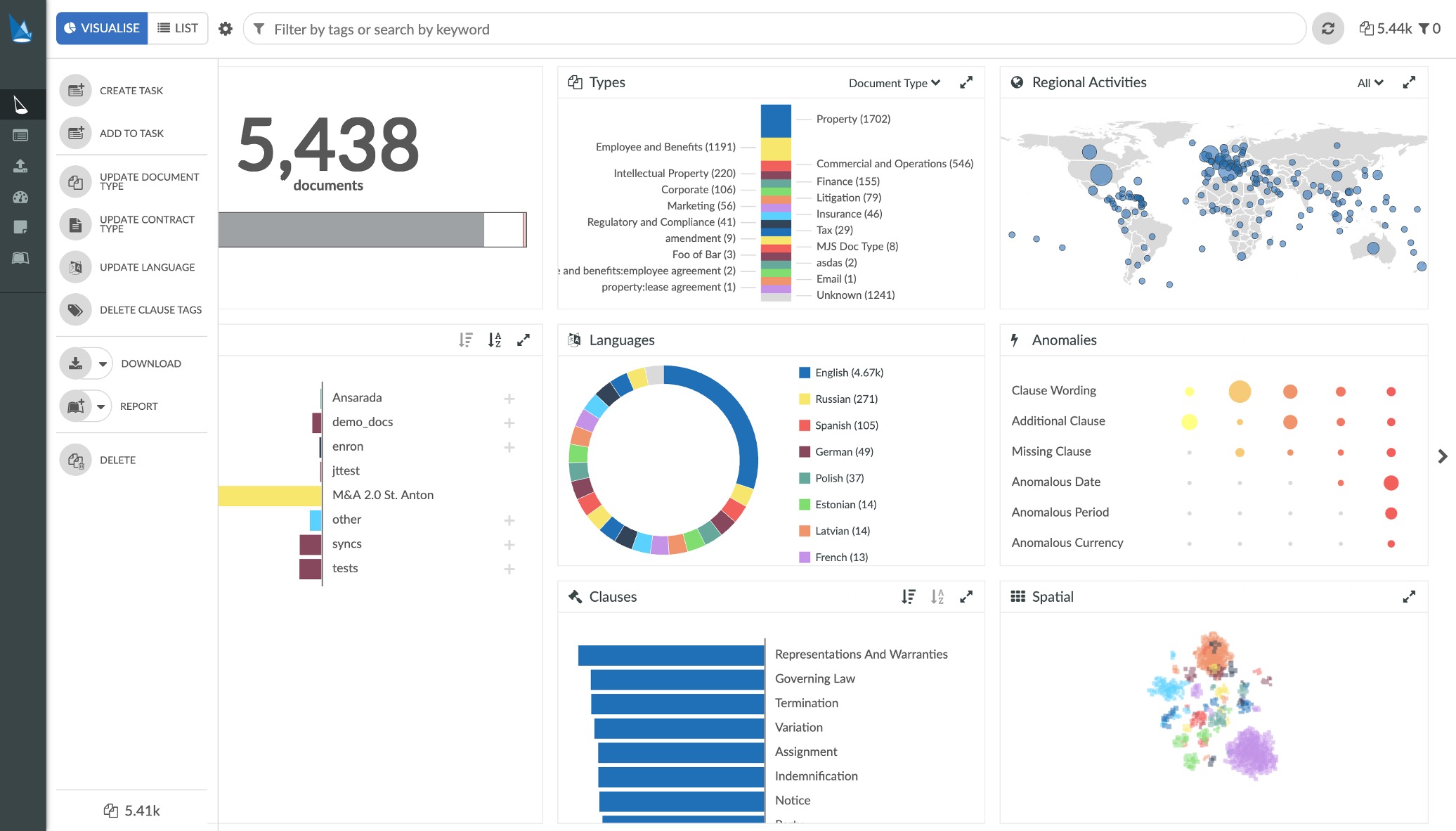 Beyond contract review, Luminance also ensures compliance during the contract drafting and negotiation phase of the contract lifecycle. If we take Supplier Diversity rules as an example, Luminance learns from an organisation's existing contracts what compliance with these requirements looks like and automates the creation of new contracts that are consistent with internal standards and external regulations. During contract negotiation, Luminance's AI-powered Traffic Light Analysis will perform a first pass review of incoming contracts to ensure they are all compliant with internal standards, such as NetZero provisions within Supplier Agreements.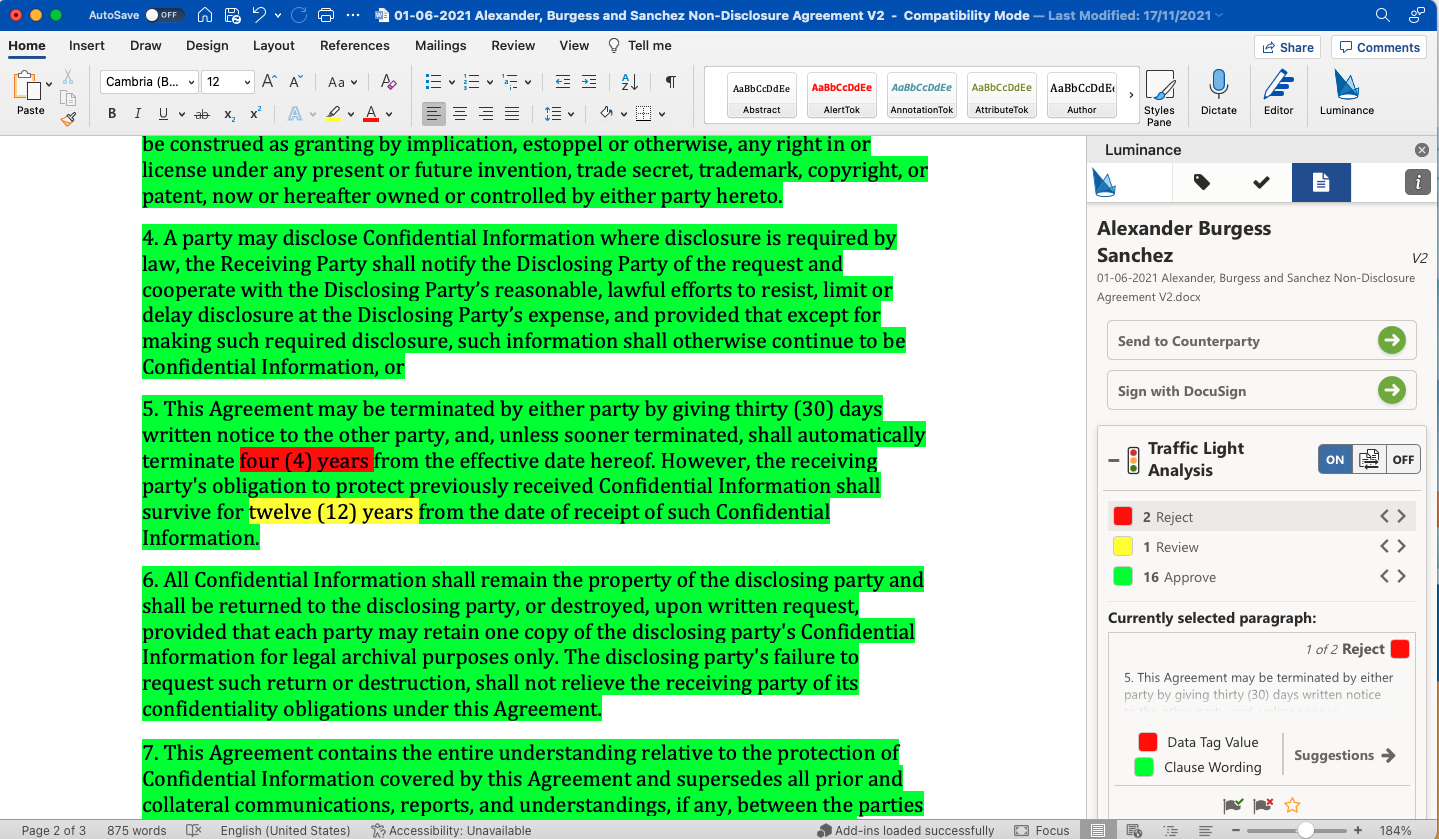 For example, Koch Industries, of America's largest manufacturers with over 120,000 employees globally, is using Luminance's AI to maintain compliance across departments. With Luminance's AI-powered contract generation tool, non-legal teams across the company can automatically generate compliant contracts such as Sales and Procurement Agreements, as well as NDAs, that meet both internal standards and external regulations, helping to ease legal bottlenecks and free up time for Koch's legal team.
Protecting Revenues and Margins
Amidst an uncertain economic climate, ensuring a company's long-term profitability is becoming increasingly difficult. With Luminance's AI-powered repository, legal teams can compare and connect orders with contractual obligations to instantly locate and track information on price, labour, statements of work, delivery timelines and quantities. This information empowers legal teams to make better business decisions amidst a context of unpredictability, while granular comparison tools and anomaly detection help to pinpoint sources of margin erosion.
Further, in the face of economic headwinds, business leaders are seeking out ways to create long-term value and boost ESG credentials through M&A activity across the industrial manufacturing sector. For instance, one of Europe's largest industrial manufacturers is using Luminance to conduct carve-outs of new internal business units and assess acquisition targets, ensuring they are fully appraised of all information and as to whether they should request further documentation or even challenge the valuation of a deal.
An Imperative for the Manufacturing Sector
In an increasingly complex and tightly regulated sector, AI is quickly becoming a necessary extension of in-house legal departments, empowering manufacturers to meet the challenges of the corporate world and ensure risks are both exposed and rapidly mitigated. AI can help manufacturing companies to cope with the sheer volume and complexity of regulation consistently imposed upon their industry, providing a deeper understanding of contractual landscapes and freeing legal teams up to deal with the wider implications that these changes may carry.
Register for our upcoming webinar on why global manufacturers are turning to AI here or request to see Luminance in action today.