We recently released a raft of new updates to Luminance, and I am especially excited to introduce you all to the brand-new AI Insights Screen! This feature is an absolute game-changer for business leaders looking to capture an instant snapshot of their organisation's entire contractual landscape, improve operational efficiency and maximise revenue opportunities.
The AI Insights Screen provides an instant overview of both pre- and post-executed contracts, with Luminance's AI automatically extracting key information across a number of parameters. All of this AI-powered insight is clearly displayed across a range of widgets, allowing key stakeholders from within the business to track the status of any contract, project or KPI in real time.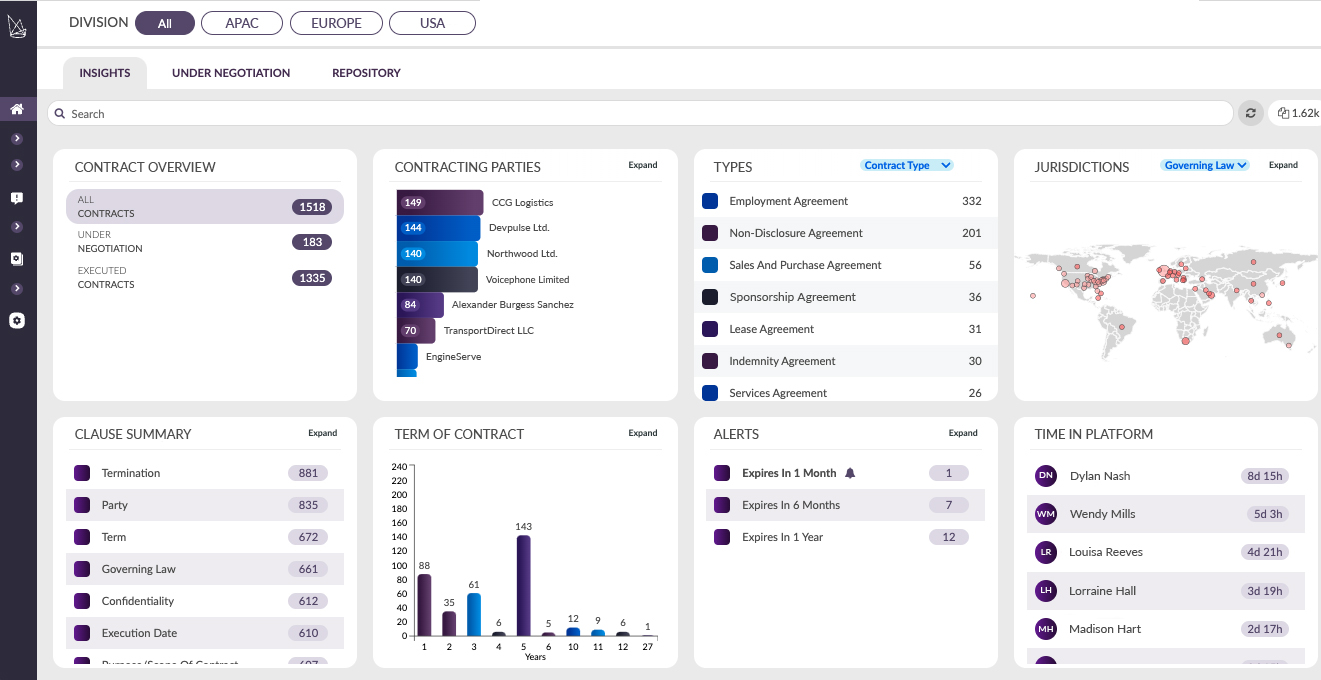 So, let's dive a little deeper into just some of the ways that business leaders can utilise the AI-powered Insights Screen…
Track Company-Wide Contract & Project Activity
Luminance's AI Insights Screen introduces Divisions which permits authorised stakeholders to track activity across different functions, such as HR and Procurement, or even any subsidiary companies using Luminance. A range of accessibility/permissions settings can be configured within Divisions, ensuring businesses can be assured that information is siloed or shared as appropriate by creating flexible data and workflows.
Turn Business Strategy into Tangible Targets
With Luminance's insights at their fingertips, business leaders can now rapidly assess where operational inefficiency can be improved. For instance:
• Time Spent in Platform provides insight into individual user statistics, allowing team leaders to track how individuals or teams are performing according to targets or preferred business outcomes.
• The Contract Overview widget further displays how many contracts are currently executed versus under negotiation, allowing business leaders to easily identify bottlenecks in the contract lifecycle and where resource should be allocated to speed up the commercial process.
Maximise Revenue Opportunities
In the current economic climate, it's crucial that organisations can ensure they are in the best possible position with their customers or suppliers. The Contracting Parties widget displays the most commonly negotiated contract types along with the frequency to which the organisation has contracted with certain parties. In this way, lawyers can easily identify whether the business is overly reliant on a single supplier and rapidly assess the need for supply chain diversification or ascertain customer exposure.
Furthermore, non-legal teams like Sales and Procurement can maximise revenue maximise revenue with instant insight into their contract termination dates, ensuring no renewal or upsell opportunities are missed thanks to the Alerts widget.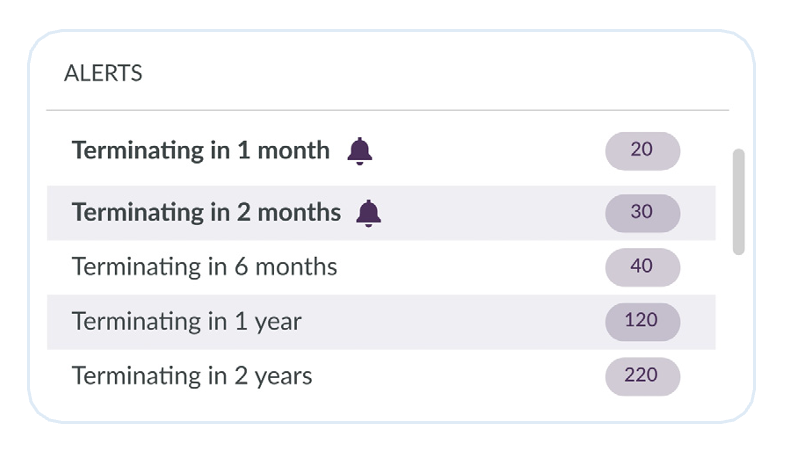 The AI Insights Screen empowers leaders with business-critical information, helping to inform decision-making and optimise internal workflows. Request to see Luminance in action today or join our webinar to learn more.