Contracts are the legally binding promises that lie at the heart of every business. They define the pivotal relationships that an enterprise has with its employees, suppliers, customers and any other pertinent parties, allowing them to understand what their obligations and responsibilities are. Because of this, managing the flow of contracts around an organisation can be a significant drain on resources. Too often, contract approvals are stalled by inefficient workflows, manual processes and hard-to-access internal precedents for agreements.
Luminance's easy-to-use Workflow Editor is transforming the way that in-house legal teams of all sizes assign and manage their legal workflows, ensuring the efficient and compliant flow of contracts around their organisation.
Access and Understand All Contracts Under Negotiation
Luminance Corporate's interactive home screen allows in-house legal teams to instantly gain an overview of all contracts currently under negotiation. Depending on the level of permission granted to the user, they can either access a holistic overview of all live contracts or simply view the contracts for which they are responsible. From the home screen, lawyers can see all information relevant to the contract, including the contract name, age, language and deadline for approval. AI-powered insights are available from this screen, including Luminance's Traffic Light Analysis which indicates via colour-coding to what extent each contract's terms comply with or deviate from internal standards.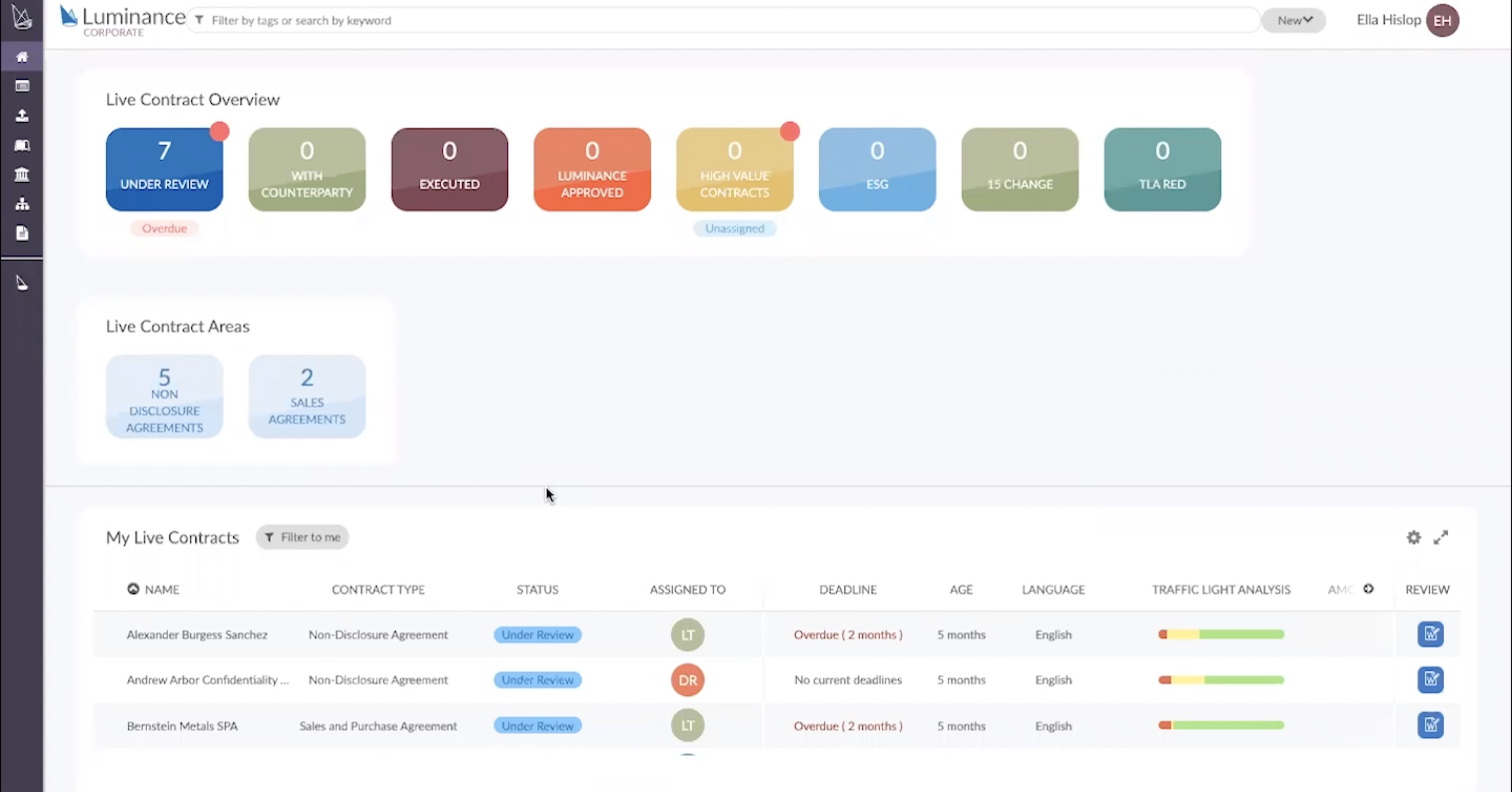 From the home screen, the legal team can then interact with their contracts in different workflow stages. Importantly, Luminance's home screen allows for complete customisation to an organisation's internal processes, allowing users to create any type of workflow stage with just one click. For instance, a reviewer may choose to customise their workflow according to contract approval stages, such as 'Under Review', 'With Counterparty', or 'Executed'. Alternatively, users can tailor their workflow stages to more specific features of a contract, such as its priority level, review for a particular project or its need for specialist review.
With just one click, lawyers can choose to open any of their live contracts from the home screen into Microsoft Word, where they will instantly be shown the results of Luminance's automatic AI-powered Traffic Light Analysis.
Creating Process Automation with Luminance's Workflow Editor
Luminance's Workflow Editor functions like an interactive and customisable flowchart and gives in-house legal teams complete overview of the flow of contracts around the organisation. Any number of conditions can be put in place to assign a hierarchical flow of contracts, meaning that an organisation can ensure all contracts pertaining to anti-bribery laws are, for example, automatically sent to the ESG team for review whilst contracts changed more than 50% by the counterparty are directed to senior members of the legal team for detailed review. What's more, all of this is done via an intuitive, drag-and-drop interface.
With Luminance Corporate's customisable home screen and Workflow Editor automating workflow allocation, in-house legal teams can reduce their reliance on General Counsel and Legal Operations Managers to manually assign contracts for review, eliminating the bottlenecks and inefficiencies that are all too commonly associated with contract management.
Interested in learning why over 450 global organisations including Tesco, Ferrero and Avianca Airlines are using Luminance's world-leading AI for legal process automation? Request to see Luminance Corporate in action today or join us at our upcoming webinar for a live demonstration